Love yourself enough to live a healthy lifestyle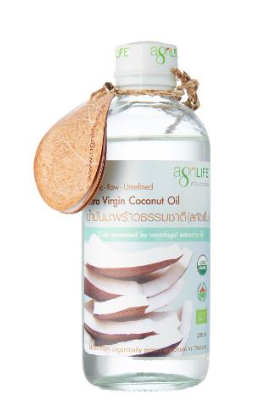 Agrilife Organic Extra Virgin Coconut Oil
Rich in Medium Chain Fatty Acids (MCFA) & Lauric Acid

Cold processed by centrifugal extraction

Unrefined, non-bleached & non-deodorised

Non-hydrogenated & no fermentation

High Saturated fat prevents it from oxidation

Ideal for hair, skin moisturising & oil pulling therapy

Improve immune system and metabolism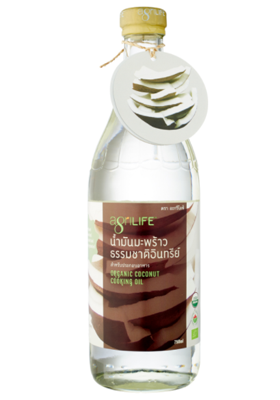 Agrilife Organic Coconut Cooking Oil
Higher boiling point than any other types of cooking oil

Dishes become crispy and healthy

Easily digested, absorbs directly to liver and help producing energy

Contains Medium Chain Fatty Acids (MCFA) and Lauric Acid
Agrilife Organic Coconut Cider Vinegar
Made from organic defatted & high protein coconut milk

Raw, unpasteurised and unfiltered

Contain mother of Vinegar

Rich in alkalizing minerals such as Potassium

Probiotic and anti-oxidant properties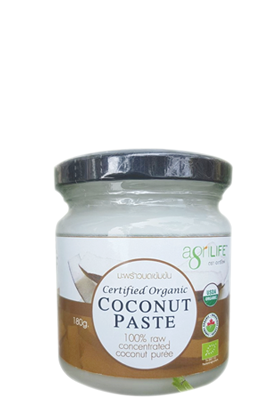 Agrilife Organic Coconut Paste
Contain essential minerals such as potassium, magnesium, zinc and iron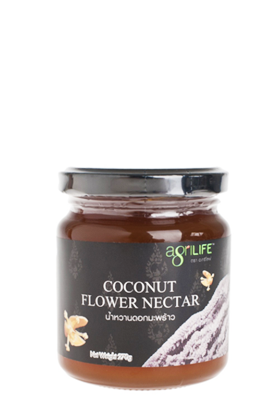 Agrilife Coconut Flower Nectar
How we make our coconut oil
Agrilife Organic Extra Virgin Coconut Oil is grown organically with no pesticide and herbicide used! Our product comes from an eco-sustainable farm, using only organic compost as fertilizers. A healthy ecosystem is nurtured in our forest-like farm to create a natural environment to grow coconuts.
Carefully selected mature coconuts are then harvested every 45 days and processed daily. Only coconuts of the right colour and maturity are selected. They are then cleaned four times with clean water. No chemicals and herbicides are used in the cleaning process.
The oil is extracted in a continuous "centrifugal separation" process through our unique cold-processed method. Through the ultra-cool extraction of our coconut oil ensures that Agrilife Organic Extra Virgin Coconut Oil is pure, gentle and smooth with great taste!
The coconut oil is then filtered and continuously to the point that it is 100% pure, containing only the beneficial fats of the coconut.
How we are different from other producers
Agrilife sources its coconuts from organic, eco-sustainable farms in three provinces: Samut Songkhram, Phetchaburi, and Prachuap Khiri Khan in Thailand. Different than coconuts farms on an island, Agrilife's coconuts farm is not on an island, but on a plain. Its location on the plain allows easy, systematics harvesting of the mature coconuts whereas the island-farm tends to harvest all the coconuts in one go because of the difficulty in transportation.
This is why Agrilife produces better quality coconut milk and coconut oil.
When the coconut reaches its state of maturity, its oil will be extracted with a centrifuge through Agrilife's own unique "Ultra-cold Extraction" Process.
Through this method, the essence and the freshness is retained throughout. It is important that our coconuts are selected at the right stage of maturity to ensure of its optimum nutrition and creamy, buttery texture.
Gentle, aromatic and natural, Agrilife's coconut oil tastes just like the coconut flesh itself.
You may find other brands to be have an unnatural pungency and yellowish colour of coconut oil as the result of overheating and the usage of low-quality coconuts.
The level of lauric acid does not determine the quality of coconut oil as other brands may claim. Any attempt to manipulate the content of the lauric acid will render the oil unnatural.
Our virgin coconut oil is coconut oil in its most natural state, containing 93% saturated fat which prevents it from ocidation.
Our Products
We produce better quality coconut milk and coconut oil that taste just like the coconut flesh itself.
Extra Virgin Coconut Oil
100% extra virgin coconut oil
---
Product Description
Non-refined, non-bleached and non-deodorized
No fermentation
No quick-dry
Cooked in low-hear
GMO-free
Clean, fresh, sweet with no after-taste
Light and buttery texture
High in satuarated fat preventing oxidation
Key Difference
High quality Thai coconut
Sourced from organically-certified coconut farms
Cold-processed and centrifugally extrated to avoid overheating
Organic Unrefined Coconut Cooking Oil
100% Organic coconut cooking oil
---
Product Description
Made from 100% organic coconut oil
Unrefined, non-bleached and non-deodorized
No artificial flavoring and hydrogen added
Can be used for any type of cooking
Suitable for stir-fry and deep-fry
Key Difference
High boiling-point than any other type of cooking oil
No turning in trans-fat
Does not clog the bloodstream
Contains medium chain fatty acids (MCFAs)
Rich in lauric acid which is commonly found in breast milk
Easily digested and absorbed directly by the liver
Organic Coconut Cider Vinegar
100% Organic coconut cider vinegar
---
Product Description
Lower blood sugar levels and fight diabetes
Lowers cholesterol and reduces the risk of heart disease
Good for cleaning and disinfecting, treating nail fungus, removing warts and oil infections
Alkalizes the body
Gluten-free
Key Difference
Made from organic, defatted, high protein coconut milk
Contains amino acids from the coconut sap
Made from the cider (pulp) of the coconut fruit
Use as spread on bread, toast and cracker
Use as topping for any kind of dessert
Use as ingredient for making smooties
Organic Coconut Paste
100% Organic coconut
---
Product Description
Made from whole food from the fresh raw flesh of the organic coconut
Processed in minimal heat
Ground to form a uniformed consistent paste
The essence of the coconut is retained
Key Difference
High quality coconuts derived from organic coconut farms
Processed in low hear to retain enzymes
Rich in fiber and protein
Made from the finest pasting technology for creamy and smooth texture
Low in digestible carbohydrates
Coconut Flower Nectar
100% Coconut Flower Nectar
---
Product Description
Made from 100% natural coconut flower nectar without any inorganic compound, artificial substance and enhancers
Made in the traditional way of thickening with minimal heat
Mild and unique – tasting sweetness
A healthy alternative to sugar
Can be used as sweetener in hot and cold drinks
Suitable for pastries and desserts
Key Difference
Low glycemic index (GI)
High quality coconuts derived from organic coconut farms
Sourced from the fertile Mae Klong river confluence which has the perfect mix of sea and fresh water for a unique sweetness

Agrilife products are proudly brought to you by:
Just Fruits Sdn Bhd
Come in today and check out our new coconut oil products by Agrilife!

Love yourself enough to live a healthy lifestyle
More information: www.agrilife.co.th | justfruits.com.my